What we Inspect on a Residential Inspection
Roofs.

Exterior.

Basement, foundation, crawlspace, and structure.

Heating.

Cooling.

Plumbing.

Electrical.

Fireplace.

Attic, insulation & ventilation.

Doors, and windows.

Interior.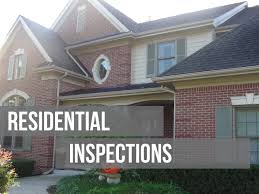 Roofs
These are the things CMIS look for while Inspecting a Roof:
Inspect from ground level or the eaves:
the roof-covering materials;
the gutters;
the downspouts;
the vents, flashing, skylights, chimney, and other roof penetrations; and
the general structure of the roof from the readily accessible panels, doors or stairs.

We will describe:
the type of roof-covering materials.
We will report as in need of correction:
observed indications of active roof leaks.